Let Us Entertain YOU!
The AHH! Chorus is available to perform for you, bringing a unique and unforgettable addition to your next meeting, convention, concert series, holiday party, special event or club function in the Los Angeles and Ventura County areas. AHH! has show packages to fit any occasion and we will work to create a package that's just right for you.
We can meet your entertainment needs with one of our quartets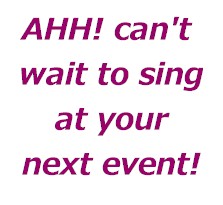 , with a small group or we'll bring the whole chorus. With costuming, artistic choreography, and thrilling harmony … the AHH! Chorus always leaves its audiences cheering for more!
Booking fees vary depending on the specifics of the event, including the date and time, location and length of the performance. For a fee estimate, please contact our Community Performance Coordinator, Call 805-531-3714 or email [email protected] to discuss the possibilities and book your date today.
We Can Help Your Organization Raise Money!!!
We provide the entertainment, you provide the location and sell tickets! Both groups make money...!!!
If you'd like your church, community group, school, or other organization to share a fundraiser with us, call or email  our Performance Coordinator to discuss all the details...
A few "Thanks" from Happy Customers:
The chorus was absolutely wonderful!  We will come and see you again at your other venues during the year.  Gloria, Happy Hatters by the Sea, Chapter of the Red Hat Society. April, 2019

I have so many wonderful comments of this year's performance. You were so great!!!!!  Thank you again xx Laurie Campbell, Gateway  Church 

You really went above and beyond any ones expectation to provide our guests with truly the most gifted performers our area has to offer!

For the last 20 years the Wellness Community Valley/Ventura has put on this event and depends on the proceeds from the Holiday Homes Tour to help provide free programs of hope and support for those affected by cancer and their families.  You played an important part in continuing these programs of hope.   I always look forward to your great music. 
Let's talk about your budget and special event to design a unique entertainment package that's right for you.