When did you stop Singing?
UPDATE: CALL 805-531-3714 FOR CURRENT REHEARSAL SITE LOCATION DURING COVID!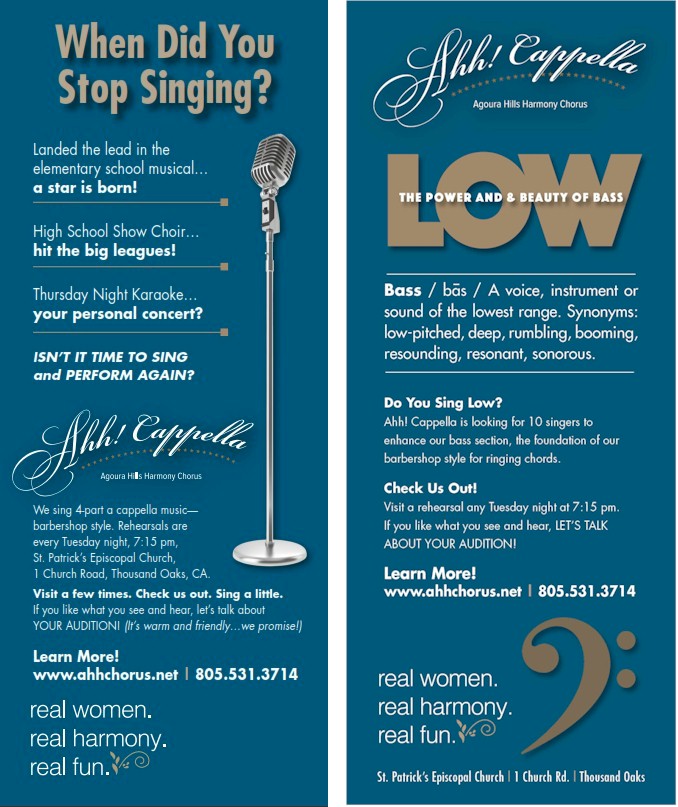 SING WITH US!
If you're a woman who loves to sing, we'd love to meet you! We have members from the Thousand Oaks, Westlake Village, Newbury Park, Simi Valley, Moorpark, Camarillo, and of course, Agoura Hills. We even have members who drive from Santa Barbara, Malibu and the San Fernando Valley!
This is music for all women ~ from high soprano to low contralto / male tenor ranges ~ Barbershop harmony is perfect for the average to above-average singer who longs for an ensemble role where she can sing, dance and perform.
To quote one of our members,
"It's the love of singing that brought me to AHH! Chorus. It's the enthusiasm, fun and lasting friendships that keep me returning week after week. I love it!"