Circle of Harmony Partners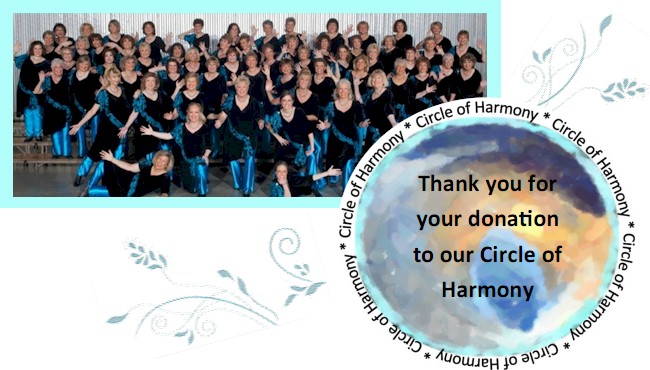 Thank you to our Bronze Partners!
Sandy Schultz
Sandy has always had a love of music, whether it was camp songs as a kid, Broadway shows as an adult,
a panoply of musical performances at the Schuster Center where she volunteers, or singing in the church choir. 
After hearing our chorus and quartet performances, Sandy was moved to contribute to Ahh! Cappella.  
Thank you for your loving support.  — Barb Schultz.
Thank you to our Copper Partners!
Brenda is our wonderful Basket Lady - collecting toiletries for charitable organizations in the community.
She also spends time selling and listing houses in the Conejo Valley so if YOU need to sell or buy a home - please contact Brenda and be sure to save your hotel toiletries from Bakersfield jaunts to help her spread a few more smiles.
Sally McLeish
Sally is Regional Champion Swingtime's lovely Tenor and a key component of our directing team.
Thanks for your AHHsome support!
Linda and Gary Hardy
Linda Lou Hardy and Gary are loving supporters of AHH!
We miss singing with you Linda and will always remember those wonderful risers that Gary built into your back yard!
So much FUN we had!
 Thank you for your continued support of AHH!
Ying Ying Wu
Ying Ying Wu is a loving supporter of AHH! We miss you, Ying Ying! Come back soon!!
Thanks for your AHHsome support!
Marcia Loftin
Wishing Sweet Goodness to You and Yours from
http://jafra.com/mloftin
https://www.etsy.com/shop/YummyToffeeByMarcia
\