Circle of Harmony Partners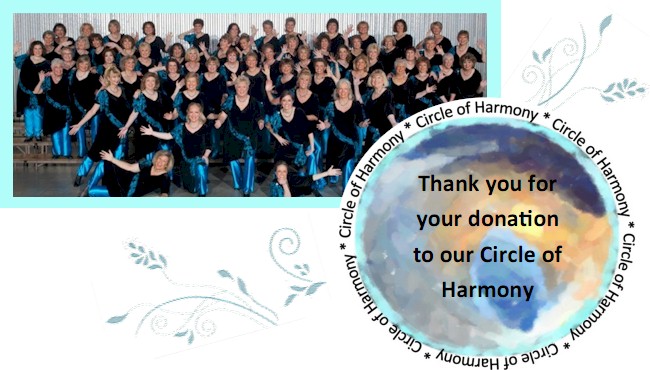 Thank you to our Copper Partners!
Brenda spends most of her time making others happy. She is our wonderful Basket Lady - collecting toiletries for charitable donations to many needy organizations in the community. She also spends time selling and listing houses in the Conejo Valley. Although she works mainly from referrals from happy customers - if YOU need to sell or buy a home - please contact Brenda and be sure to save your hotel toiletries from Bakersfield jaunts to help her spread a few more smiles.
John Reid
Thank you for Tuesday eve! - Love Karen
Elaine Berman
It brings Elaine great joy to see and hear the Agoura Hills Harmony Chorus! She appreciates our hard work and the talent that goes into our performances.
Thank you so much for your AHHsome support! — Faye Friedman
Sandy Schultz
Sandy has always had a love of music, whether it was camp songs as a kid, Broadway shows as an adult, a panoply of musical performances at the Schuster Center where she volunteers, or singing in the church choir. 
After seeing our Chillin' performance, Sandy was moved to contribute to Ahh! Cappella.  
Thank you for your loving support.  — Barb Schultz.
Victoria Andersen
Developmentally Disabled Job Coach for Sage Services
A thank-you for what you do from Jeri Johnston
Thank you - Genie Boruski for your contribution in honor of your brother's organization, Medicine for Humanity. Leo Lagasse, M.D. is president and co-founders of Medicine for Humanity.
Click the link above to see the wonderful work they do.
Thank you, Pete, for joining our Copper Partners.
Muffoletto & Company is a full service accounting firm located in Woodland Hills. Whether your need is general tax, accounting, business management practice, support and/or services, Muffoletto & Company can assist you. 
Call 818-346-2160.
Both AHH and Jafra has kept me looking YOUNGER THAN SPRINGTIME.... lyrics with which I am familiar! 
Thank you to all supporters of AHH!