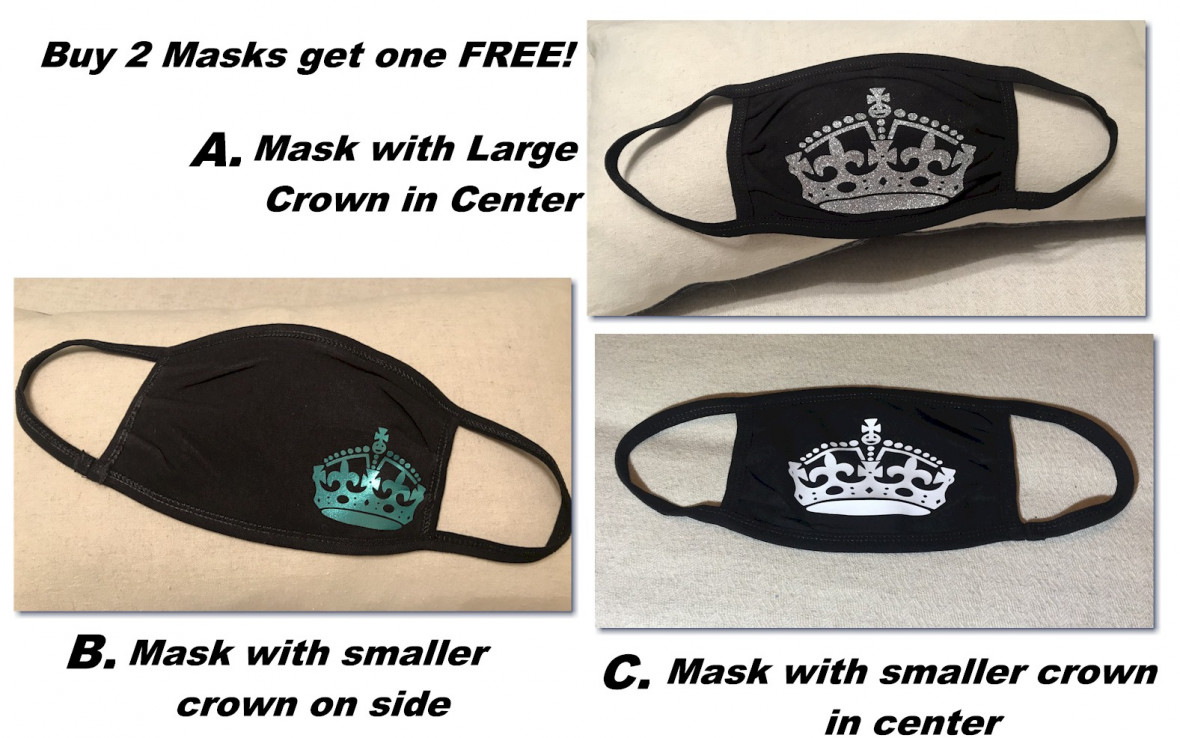 You Asked For It you Got It - Masks!
Masks are here!  $12 each - ORDER 2 AND GET ONE FREE!
Large Crown, Small Crown, Get Sizzled!... Chorus logo... whatever you want!
CLICK HERE TO ORDER! - Please send an email to: [email protected]  with your Mask Choices - A, B or C.
3-PLY, 100% COTTON REUSEABLE KNIT FACE MASK WITH ANTIMICROBIAL FABRIC.
Designed for maximum comfort, This 3-ply, 100% Cotton/ jersey Knit Face Mask goes beyond standard cotton masks thanks to incorporation of Sciessent's Agion® treatment into the fabric. Sciessent is a U.S.-based global provider of antimicrobial solutions.
100% cotton jersey face mask covers the wearer's nose and mouth with three evenly spaced pleats on each side. Elastic stretch binding ear loops help hold it comfortably in place. Machine washable. 
100% cotton jersey Fabric touching skin: 100% cotton Mask contains silver and copper. May be used when FDA-cleared masks are unavailable.   Not recommended for use in a surgical setting or where significant exposure to liquid, bodily or other hazardous fluids may be expected and where the infection risk level through inhalation exposure is high. The product has been authorized by FDA under an EUA for use by HCP as PPE to help prevent the spread of infection or illness in healthcare settings and by the general public to help slow the spread of the virus during the COVID-19 pandemic.